---
IRRIGATION
---

It is important to provide the right amount of water at the right times in order for bentgrass to flourish. Too little water can leave the turf dry and prone to wilting and disease. Too much can literally cause it to drown and promote fungus growth.
Water from irrigation should be applied between 4 and 7 am (even in 100 degree heat) at a rate of 1/4" per day (depending on soil type).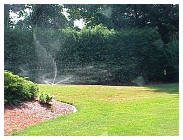 Excess water should always be removed. Proper soil drainage and pitch is needed to remove excess water. Dew should be removed using a dew whip or similar device to help prevent fungus growth, especially in very hot, humid conditions.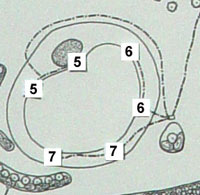 Puttgarden Irrigation
If you are fortunate enough to have an irrigation system with automatic controls, keeping the course (lawn) properly water can be a lot easier. It is important to know the zones in the system and the amount of time each is running and when they turn on.
Here's a map of the system we use to keep the course irrigated.
Notice in the Irrigation setup table below that there are different cycles and times throughout the day. The main "soaking" cycle happens overnight when there ids the least loss from evaporation. Also some of the zones turn on for short periods in the middle (hottest part) of the day. This is for those times that the mid day sun can burn the turf and turn beautiful green grass to brown dead patches. These 2nd and 3rd cycles of the day are around the greens and the tough spots in the lawn that tend to dry out fast.
Irrigation Set-up
Program Time (min.)
A
B
C
Zone
Location / Start Time
12:00 AM
11:45 PM
2:30 PM
1
Biggie Top Tee Rough
10
2
New Green Men's Tee
10
3
3
3
New Green Men's Tee Deck
10
3
3
4
New Green Men's Tee
10
5
5
5
New Green North
15
5
5
6
New Green East
15
8
8
7
New Green South
15
5
5
8
Biggie East
15
5
5
9
Biggie North East
15
6
6
10
Biggie Center
15
5
5
11
Biggie West
15
6
6
12
Biggie South
15
6
6
13
Biggie Rough South East
10
14
Biggie Rough North East
10
15
Hacker's PG Fairway
10
5
5
16
Hacker's PG Rough South
10
17
Hacker's PG Rough East
10
18
Hacker's PG Rough West
10
5
5
19
Hacker's PG Green
10
5
5
20
Biggie Tee Rough NE
10
21
Biggie Tee Rough SW
10
22
House Garden NNE
10
23
House Garden NNW
10
24
House Garden West
10
25
House Garden North West
10
26
Puttgarden Drip
10
27
House Front
4
28
Puttgarden Front Stairs
12
29
Puttgarden & House NE
12
30
Puttgarden & House West
10
31
Biggie Rough West
10
32
Biggie Rough North West
10
33
Puttgarden Rough NE
10
34
Biggie West Tee
10
3
3
35
Puttgarden Rough SE
10
36
Posh Patio South
10
5
5
37
New Green Women's Tee & Rough
10
38
New Green Tee Rough SW
10
39
New Green Tee Rough SE
10
40
Stone Fountain SW
10
41
Stone Fountain North
10
42
Stone Fountain SE
10
Total (hr.)
7.63
1.33
1.33